Communal TV Systems
Here at North West Aerials we're specialists in the design, installation and maintenance of communal television systems. Communal TV comes in many different forms and integrations with other services, such as CCTV which is becoming increasingly popular. North West Aerials are fully liability insured, qualified and can perform work without height restrictions. We're well trained in all forms of communal TV, including the latest fibre optic installations.
Integrated Reception Systems (IRS)
IRS is now the preferred option for most new communal TV installations, as they are flexible and scalable. IRS networks can be as simple as a shared satellite dish or aerial serving more than one flat. IRS networks can also be vast, relaying a whole host of services such as Sky, Freesat, European satellite, Freeview, Telephone, Broadband, CCTV, DAB, FM and more all to a single socket within a building. It is even possible to relay satellite signals from more than one satellite utilising IRS for communal TV.
Residents or tenants can be given the means to watch the television of their choosing.
Each tenant/resident in a set of flats can be given access to a full range of subscription channels. An IRS gives all tenants a choice of what they watch and which services they receive without having to have an aerial or satellite dish installed.
How it works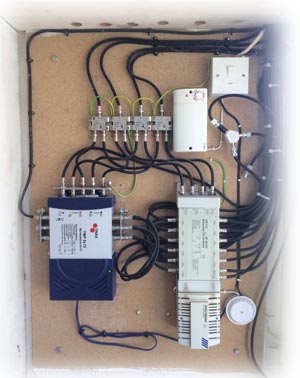 An IRS allows satellite, TV aerial and radio aerial signals to be fed to multiple points in a single building or site such as flats or a caravan park. One or more aerials or satellite dishes are linked to a set of cables run from the roof. These are connected to a central bank of amplifiers, equalisers and multi switches. From here each apartment is fed by a single cable or 2 cables for HD television viewing.
All the options that are available to a single domestic installation are now made available to each individual flat, so through communal viewing a choice of providers and services (such as multi-room viewing etc) is made available to each tenant without any aerial or satellite installation to worry about.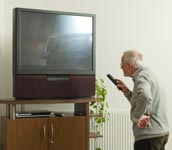 Tenants are simply required to choose the way they wish to watch tv and purchase the relevant equipment or subscription - a freeview box/tv, a freesat box or if they require Sky TV they would choose a subscription package and sky box.
With communal IRS when the tenant sets up the receiver, there is no aerial or dish to install – because this part has already been done with IRS.
IRS gives every user digital terrestrial tv and radio, freesat satellite and sky compatibility
The main advantages of Integrated Reception Systems are:
It is flexible for every user
IRS is highly cost effective
It is only the responsibility of the landlord in terms of installation and providing signals
Personalised - Users choose which services, if any, they wish to accept
Complies with health and safety
For help with planning your IRS or to find out any further information please get in touch.
Here at North West Aerials we have 61 years experience in the business and have completed and maintained countless IRS installations across the north west. Rest assured you will be given excellent assistance to plan, install and roll out your crystal clear digital tv and satellite communal IRS.
North West Aerials engineers are all trained to the highest standard, adhere to Health & Safety practises, are polite, prompt and tidy.
If you have any questions or would like a no-obligation quote, call us today.
Master Antenna Television (MATV)
MATV is as its name suggests, is a single master antenna that can serve more than one dwelling. Although not as flexible as IRS, Master Antenna Television is great for re-laying Freeview signals to more than one property.
Satellite Master Antenna Televisions (SMATV)
Extending on from the Master Antenna Television concept, Satellite Master Antenna Television adds extra services. This system has always been more popular with hotels and leisure complexes. Since the digital switch over this type of systems popularity has declined, as Freeview now offers a great variety of programmes. However these systems can still be used to good effect for relaying services that are not included in Freeview, such as satellite television or radio channels and CCTV cameras.
If you are interested in communal tv systems and would like any free advice, further information or a no obligation quote, please get in touch.
We think you will be pleasantly surprised at how good our well designed systems perform, offering viewers a quality tv viewing experience at affordable prices.