Freeview - TV the way it should be
We can supply & install a Freeview digital compatible television aerial, combined with a digital television, Freeview, BT Vision set top box installation, and this will provide you with great digital television channels, and a range of digital TV interactive services.
We can supply and install a range of Analogue TV Aerials, Digital TV Aerials capable of receiving Freeview, and DAB (Digital Audio Broadcast) Radio aerials. We also service & maintain existing aerial systems and provide a TV aerial repair service. Free Estimates are provided for all new TV Aerial installations.
Freeview – with over 70 free digital tv channels, 15 high definition (HD) tv channels, 24 digital radio channels, full interactive services, Digital TV planner, Freeview + hd now available with up to 160 hours of recording & no monthly subscriptions.
What is Freeview?
Freeview is the digital TV service users can get via a tv aerial in the UK. Most of the digital radio and TV shows are free and all you have to pay for are the set top box and the Digital TV set. Freeview has over 70 TV channels, 15 high definition (HD) tv channels and over 24 radio channels. You can get additional sports and entertainment terrestrial channels via Top Up TV and BT Vision, for which users will need a set top box, or a digital box for Top Up TV, or a digital TV with a card slot or separate card adaptor.
Advantages of Freeview
• TV Electronic programme guide from which you can find out a week's listing of programmes.
• It's a cheap and safe option. You can install the equipment yourself.
• You get free channels without subscription.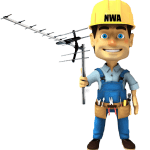 You can count on us to provide you with the best TV aerial installation and service.
For help or advice, please get in touch - Call us free from all mobiles & landlines on 0800 1955 401
Or call our expert TV aerial engineers on 07976 726656

TV that suits you

With the Freeview HD Recorder you can watch what you want, when you want. For all you binge watchers, simply record a whole series to enjoy in one go. Two of your favourite programmes set to clash? Record one and enjoy the other. This is TV that works around you. Flexible and free of charge.
Pause live TV
Fancy a cup of tea? Or three? No problem. With pause and rewind you'll never miss a moment of your favourite shows.
Series record
Whatever your TV fix, simply find the series in the TV guide and select series record to enjoy it when you're ready. It couldn't be easier.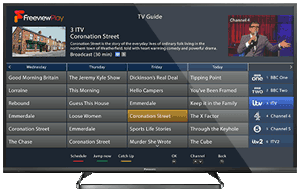 Programme clash?
We've all been there. Two shows, same time. It's TV at its most cruel. With the HD recorder you can set one show to record and enjoy the other. Problem? What problem.
With a Freeview Play Recorder you can also watch and record live TV and catch up on shows you missed all through the TV guide.