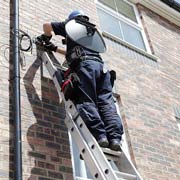 Satellite Dish Installation and Services
We specialise in professional, affordable satellite dish installations throughout the North West. We provide peace of mind to homeowners, residents and businesses alike and work on a regular basis in and around Blackpool, Preston, Southport, Warrington and Manchester - covering all the towns and villages in between.
All our Engineers are fully experienced at installing sky satellite systems and have the knowledge to carry out discreet installations to meet each individual customers requirements including hidden dishes and cables etc.
Types of satellite dishes we install
We install a multitude of satellite dishes for a variety of applications. Beneath is some information on the types of dishes we can install, along with their purpose and relevant links.
Satellite dish installations for Sky
A small unobtrusive satellite dish is all that's required for Sky, we are experienced in satellite dish installations that Sky themselves are unable to do, for example high, difficult to access set ups where the dish may need to be installed to clear obstructions like as nearby trees or buildings, or just to keep it out of sight. Learn more about Sky Satellite Dish installations.
Satellite Dish Installations for Freesat and Freetime
From a satellite point of view Freesat and Freetime are very much the same thing, and also Sky with the exception of Sky Q. The same satellite dish that is used for Sky HD is used for Freesat making it the perfect alternative for people wishing to save money off their Sky subscription, but instead of installing a Sky box we install a Freesat box which we can also supply at great prices. Learn more about Freesat installations.
Satellite dish installations for European and international TV
It is possible to receive satellite TV from all over Europe and North Africa here in the UK. Including free and subscription based services. More often than not a larger dish is required than for Sky or Freesat. It's even possible to use the same fixed dish to receive from more than one satellite position at the same time, or alternatively have your satellite dish installed onto a motor to receive more than 40 different satellite orbital positions all from the same dish. Learn more about European & International TV.
Satellite Broadband
If you live in a poor broadband area or where you require fast, reliable broadband where no telephone line is available Satellite Broadband is for you. Satellite broadband as the name suggests is broadband delivered over satellite and as no telephone line is required, coverage is nearly 100% of the UK. Learn more about satellite broadband.
Long life, weather resistant Dishes
We can, on request, install various types of long life rust proof and weather resistant satellite dishes perfect to coastal locations where the sea may rust apart your standard satellite dish. The most popular type we install are Fibreglass dishes, which are the ultimate in system longevity but we can also install Aluminium dishes and transparent satellite dishes. Learn more about Long life, weather resistant satellite dishes.
Freesat HD
With over 140 free digital channels full interactive services, BBC iPlayer, Digital TV planner & digital radio channels, HDR freesat now available with up to 160 hours of recording. No monthly subscription, 98% UK coverage. Learn more...
Satellite Dish Repairs
Has your satellite signal gone, or has your screen gone fuzzy with pixilated pictures?
North West Aerials can help! We can quickly diagnose problems with your current satellite set up and repair it promptly to make sure you have all your channels working again.
Our engineers will attend your property, complete a full diagnosis or your current TV set up, find any faults and rectify to make sure you're receiving the best signal possible.
Same Day Service where possible for all satellite repairs.
All of our engineers come fully equipped to deal with any problem and have all the skills necessary to get your TV system working again. If additional equipment is required such as amplifiers or signal boosters to improve reception levels, we can acquire these systems quickly and install them on the same day.
You can count on us to provide you with the best satellite dish installation and service.
For help or advice, please get in touch - Call us free from all mobiles & landlines on 0800 1955 401 or call a TV aerial expert on 07976 726656